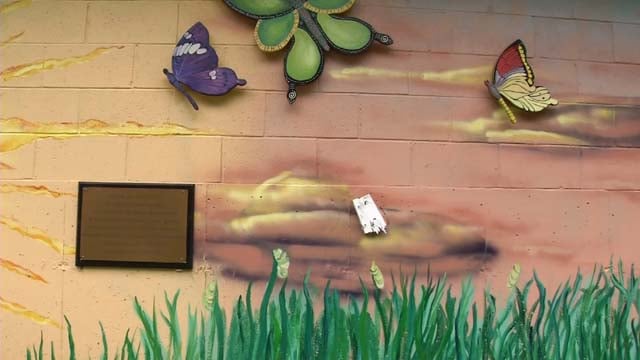 Southington police say a wooden butterfly is missing from a mural along the Rails to Trails (WFSB)
SOUTHINGTON, CT (WFSB) -
Police in Southington are investigating after a wooden butterfly from a mural along the Rails to Trails was reported missing.
On Monday morning, officers were called to the trail behind Ragozzino's Deli on Summer Street, where one of the 26 butterflies was reported missing from the Sandy Hook mural that is along the trail.
The mural is hand painted with 26 wooden butterflies representing the students and staff who were killed at Sandy Hook Elementary School, and displays quotes to remind people to be kind to one another.
"We are hoping for many years it will serve as a reminder to be kind to one another because it doesn't take anything for you to be kind," said Lisa Wrubleski, who was part of the project.
She believes the butterfly was stolen, because she said this isn't the first time this has happened.
"It was taken and the town was just crazy in an uproar and the sister of the person who took it turned it into the police department," Wrubleski said.
Police said at this time it is unclear when the butterfly was taken from the mural.
Anyone with information should contact police at 860-378-1600 ext. 2367.
Copyright 2017 WFSB (Meredith Corporation). All rights reserved.