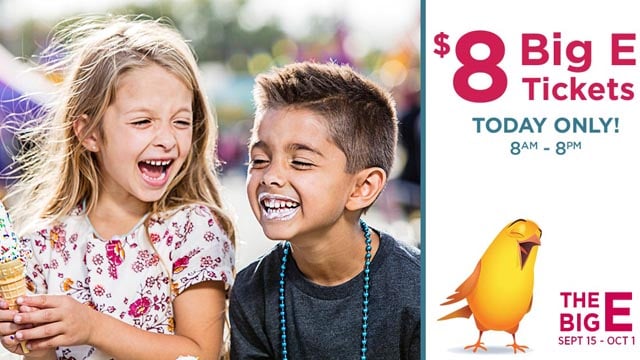 (The Big E photo)
WEST SPRINGFIELD, MA (WFSB) -
It's not even officially be summer yet, but a flash ticket sale may have fair goers thinking about the fall.
The Eastern States Exposition announced a one-day flash ticket sale on Tuesday to mark the 100 day countdown to the Big E.
Admission tickets are $8, marked down from the regular price of $15.
The sale runs from 8 a.m. to 8 p.m. on Tuesday.
There is a limit of eight tickets per order.
"We're rolling our ticket price back for one day only," said Gene Cassidy, president and CEO, Big E. "This deep discount is our way of showing our appreciation to our Big E guests for their loyalty, enthusiasm and support during our centennial celebration last year."
The Big E returns on Sept. 15 and runs through Oct. 1. See photos of it here.
For information on the flash ticket sale and to buy tickets, head to the Big E's website here.
Copyright 2017 WFSB (Meredith Corporation). All rights reserved.