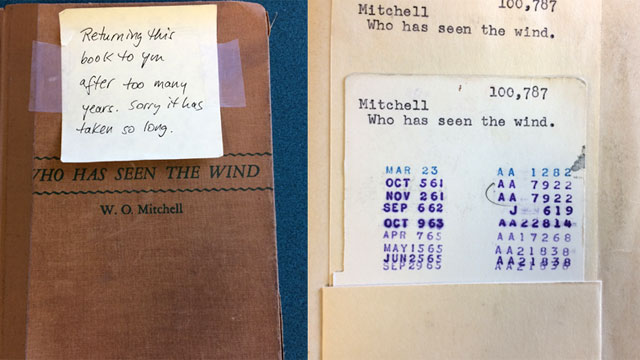 This copy of Who has Seen the Wind by W.O. Mitchell was due back on Sept. 29, 1965. (West Hartford Libraries)
WEST HARTFORD, CT (WFSB) -
A book was returned to the West Hartford Library that was due back more than 50 years ago.
The West Hartford Libraries received a copy of the Who has Seen the Wind by W.O. Mitchel on Tuesday morning. The novel was found in the book drop at the Noah Webster Library.
The book was due back at the library on Sept. 29, 1965.
"[The book] had a little note attached to it that says returning this book to you after too many years, sorry it has taken this long," Martha Church, who is the director for West Hartford Public Libraries, said.
Church, who has been with the West Hartford Public Libraries for the past 40 years, said this late return was incredibly unusual.
The binding of the book was torn significantly.
If the person who had his book were charged under today's fees, it would be more than $2,800 for the bill. However, there is no need to worry the library generally doesn't charge over the value of a book and with a book this old they said they won't be charging at all.
Copyright 2017 WFSB (Meredith Corporation). All rights reserved.