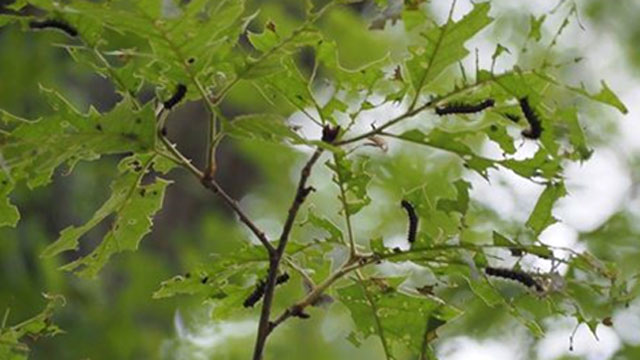 DEEP officials said the gypsy moth caterpillars continue to grow after hatching six weeks ago. (DEEP)
HARTFORD, CT (WFSB) -
State environmental officials said the gypsy moth caterpillars are getting bigger.
Members of the Connecticut Department of Energy and Environmental Protection said the caterpillars first hatched six weeks and their numbers continue to grow.
"In the places where counts of the egg masses predicted, the number of caterpillars is great. Defoliation ranges from moderate to severe in those areas," DEEP posted on its Facebook page Tuesday.
DEEP members said it is too late to start spraying for the gypsy moth caterpillars, but there are other methods to get rid of the bug.
"However, for those homeowners who wish to use mechanical means to catch the larvae (burlap flaps or sticky bands), this is also the right time to begin trapping these larvae as they attempt to move back up the trunk," DEEP posted on its Facebook page Tuesday.
For more information, click here.
To get a fact sheet on gypsy moths, click here.
Copyright 2017 WFSB (Meredith Corporation). All rights reserved.