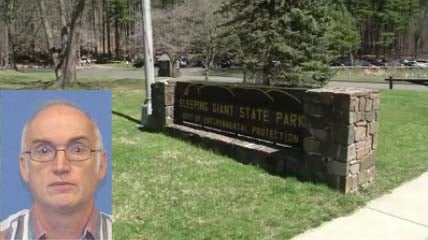 Anthony Ingraham is accused of hiking naked at Sleeping Giant State Park (WFSB/DEEP photo)
HAMDEN, CT (WFSB) -
Police have arrested a Wallingford man accused of hiking naked at a state park.
Connecticut Department of Environmental Protection (DEEP) Environmental Conservation (EnCon) Police arrested 57-year-old Anthony Ingraham on Tuesday and charged him with public indecency.
Police had received a complaint from a woman who said Ingraham exposed himself to her and that he was hiking naked at Sleeping Giant State Park in Hamden.
Upon further investigation, police said it reportedly happened twice, on April 1 and April 9.
He was released on a $10,000 bond and is expected to appear in court on June 19.
Copyright 2017 WFSB (Meredith Corporation). All rights reserved.