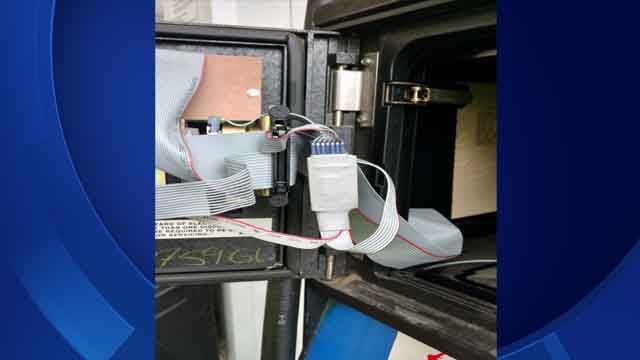 The device was discovered at the Mobil Mart on Main Street in the Centerbrook section of Essex (CT State Police)
ESSEX, CT (WFSB) -
Connecticut State Police are looking for the person who placed a skimming device at a gas pump in Essex.
The device was discovered at the Mobil Mart on Main Street in the Centerbrook section of Essex on Tuesday afternoon.
It was attached to a fuel pump payment system and was discovered by a service technician who had been called to the gas station to repair a keypad.
Police said it appeared to be equipped with Bluetooth, allowing the person who attached the device to access credit card information remotely.
It's not known how many credit cards if any were skimmed. The company Sam's Stores released a statement to Eyewitness News on Wednesday.
"We take security and privacy very seriously. Due to the nature of skimming, CCO equips our store operators to employ preventative measures to protect pumps from skimming. In the case of Centerbrook, it is believed the device was placed at the pump overnight and found the next morning upon store opening," the statement read.
The company that serviced the machine at the Mobil Mart told Eyewitness News they find two to three skimming devices a week in southern New England in older gas pumps.
Anyone with information should contact Connecticut State Police at 860-399-2100.
Copyright 2017 WFSB (Meredith Corporation). All rights reserved.