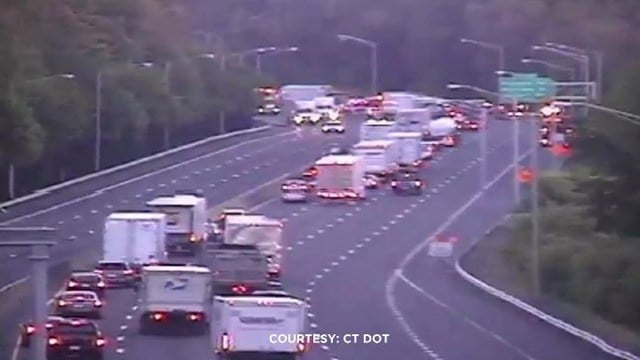 (DOT)
WETHERSFIELD, CT (WFSB) -
Police identified the sole operator of a dump truck that veered off the right side of Interstate 91 Northbound in Wethersfield.
The 36-year-old New Britain man, Kevin Lockery was operating a 2005 Peterbilt tri-axle dump truck for T&T Auto LLC in Manchester when police said he crashed through the metal beam guard rail and down the wooded embankment.
Police said the truck rolled several times before coming a rest in the brush about 100 feet away from the highway. Police said Lockery was removed from the cab and rushed to Hartford Hospital via Aetna where he later died from his injuries.
According to police, the truck crashed 3:55 a.m. on Friday, and all lanes of Interstate 91 northbound in Wethersfield reopened by 11:15 a.m.
Police have yet to determine the cause of the crash, but are encouraging those with information to contact Trooper Michael Dargan at the State Police Troop H Barracks in Hartford at (860) 534-100 ext. 6032.
For real-time traffic updates, check the WFSB traffic map here.
Copyright 2017 WFSB (Meredith Corporation). All rights reserved.