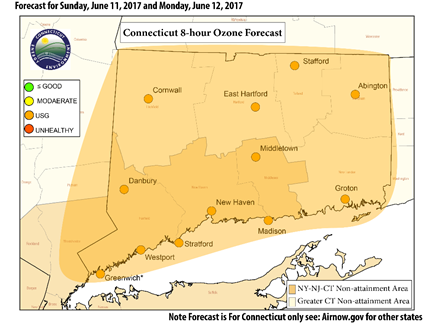 Courtesy CT Department of Energy and Environmental Protection.
SIMSBURY, CT (WFSB) -
With temperatures climbing in the 90s again on Monday, Ellington and Simsbury are opening centers so people can take a break from the heat.
The Simsbury Public Library served as a cooling shelter on Sunday too and it will do the same on Monday from 9:30 a.m. 8:30 p.m.
The senior center in Eno Memorial Hall is another place people will be able to cool off over the next couple of days. It's opening its doors at 8:30 a.m.
With the stifling heat, the Department of Energy and Environmental Protection has put out a warning for poor air quality. It is urging people with sensitive breathing conditions limit their time outside, especially between 2 p.m. and 8 p.m.
Information about the forecast can be found here.
Copyright 2017 WFSB (Meredith Corporation). All rights reserved.