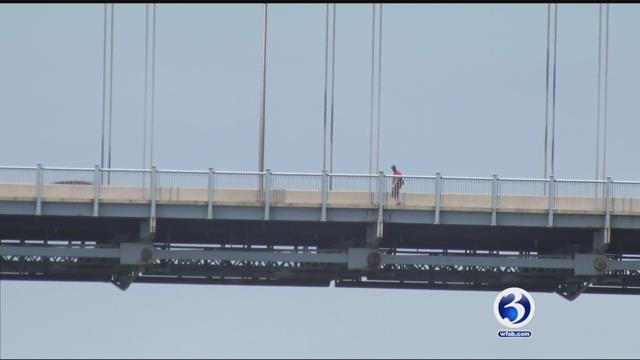 The Arrigoni Bridge is getting new safety measures. (WFSB)
MIDDLETOWN, CT (WFSB) -
The Arrigoni Bridge that connects Middletown to Portland is a landmark on Route 9 and has also received unwanted attention from the site of suicides.
Connecticut Department of Transportation officials said they are planning a $37 million project for 2019 that includes deck and surface work.
Middletown Mayor Dan Drew also wants some suicide prevention measures.
"If we can put something in place that will make them think twice and perhaps seek help," Drew said. "Then if we save one life it's worth it."
DOT officials said deterrents such as high fencing or netting will be considered, but no promises have been made.
Suicide prevention methods started being heavily discussed in 2015 after Tony Moreno threw his infant son off the bridge and jumped in.
Moreno survived and was recently sentenced to 70 years in prison.
Copyright 2017 WFSB (Meredith Corporation). All rights reserved.