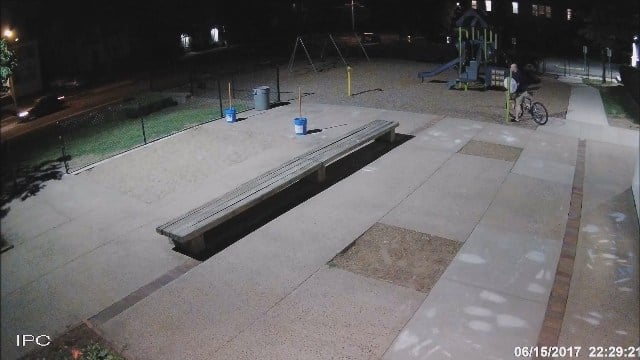 Police are searching for this man who caused damage at Morley School. (West Hartford Police Department)
WEST HARTFORD, CT (WFSB) -
Police have identified the person believed to be responsible for vandalism and threatening messages at a school in West Hartford.
Investigators released surveillance video on Monday that video shows a man damaging signs and leaving messages threatening the president throughout West Hartford last week.
The video shows a person of interest riding a mountain bicycle at Morley School, which is located on Bretton Road, on Thursday. Police said the man damaged several areas with "anti-Trump writings and threats directed at the president."
Police said they received tips from residents once the video was released on Monday. The suspect called the police and now, an arrest warrant is being prepared by police at this time.
The man in the video is believed to be in his 30s to 40s and was wearing a Boston Red Sox T-shirt. He had a small brown and white mix breed dog with him, police said.
Anyone with any information is asked to call the West Hartford Police Department at 860-523-5203.
Copyright 2017 WFSB (Meredith Corporation). All rights reserved.