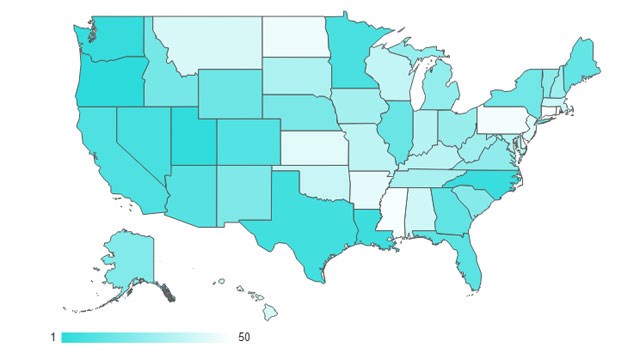 Study show Connecticut as 14th most independent states. (WalletHub)
HARTFORD, CT (WFSB) -
A new report shows Connecticut as one of the most independent states.
The personal finance website WalletHub looked at "32 key indicators of independence in order to determine which states are most self-sustaining."
The report found that the top states were Colorado, Utah, Minnesota, New Hampshire and Wisconsin while Louisiana, Kentucky, Alaska, Mississippi and West Virginia were ranked the least independent.
Connecticut was ranked 14th. Here's how Connecticut finished in the major categories:
4th – Median Debt per Income
9th – Share of Adults Saving for Their Children's College Education
13th – Percentage of Workforce Employed by Federal/State/Local Government
25th – Percentage of Jobs Supported by Exported Goods
25th – Industry Variety
4th – Percentage of Adults Who Smoke Every Day
For the full report, click here.
To see the 15 most independent states on your mobile device, click here.
Copyright 2017 WFSB (Meredith Corporation). All rights reserved.