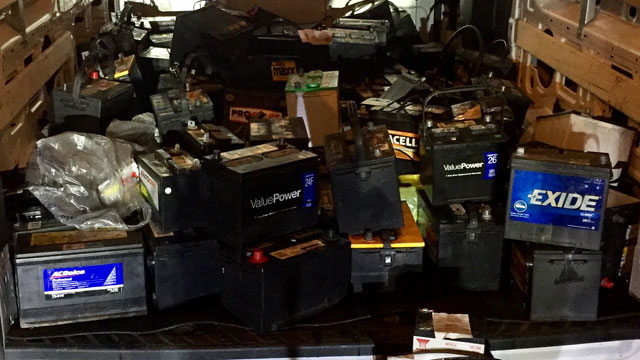 Police seized the following car batteries after a rash of thefts. (West Haven Police Department)
WEST HAVEN, CT (WFSB) -
A father and son were arrested after police said they stole vehicle batteries throughout the state.
Police charged 46-year-old West Haven resident Peter Burwell Jr and 25-year-old New Haven Peter Burwell III were charged with larceny, criminal mischief, criminal trespass, possession of burglar tools, and motor vehicle charges.
The arrest of the Burwells comes after a rash of car battery thefts. Police said a GPS unit was installed on a car battery outside of a Walmart in Rocky Hill. After the battery was taken, the GPS was tracked to a Walmart in West Haven around 11:30 p.m.
Police stopped a U-Haul van with the Burwells were inside it near the intersection of Center Street and Union Avenue. Inside the van, police seized numerous stolen car batteries along with the stolen GPS unit and burglar tools.
A manager from the Walmart in Rocky Hill confirmed that the battery was stolen from their store.
The van was impounded by police and several stolen items were seized as evidence.
The Burwells are both being held on bond.
The Milford and Rocky Hill police departments worked with officers from West Haven on the arrest.
Copyright 2017 WFSB (Meredith Corporation). All rights reserved.