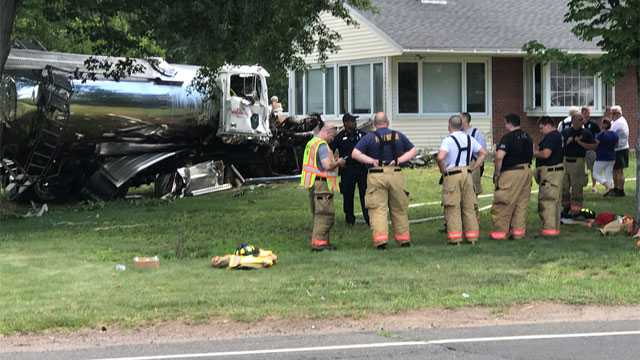 A tanker truck hit a home in Suffield Sunday. (WFSB)
SUFFIELD, CT (WFSB) -
A tanker truck crashed near a home in Suffield on Sunday morning.
The tanker truck, believed to be transporting milk, went off the road in the 900 block of Mountain Road around 10:30 a.m. according to Suffield police.
The driver was transported to the hospital with non-life-threatening injuries, police said. People were inside the home at the time of the crash, but police said no occupants were injured during the incident.
During the crash, police said the "hood of the tanker truck detached from the vehicle and struck exterior of the home." Police added that the tanker truck "itself did not make contact with the structure."
Officials from the town building inspector and health department collaborated with the Suffield public safety agencies to determine the home was "safe and not compromised."
The incident remains under investigation by the Suffield police and fire departments.
The crash caused heavy delays in the area.
"The Suffield Police and Fire Departments want to extend a thank you to all those motorists who avoided this area allowing first responders to focus their efforts on quickly and efficiently addressing the emergency at hand," police said in a release on Sunday.
Copyright 2016 WFSB (Meredith Corporation). All rights reserved.