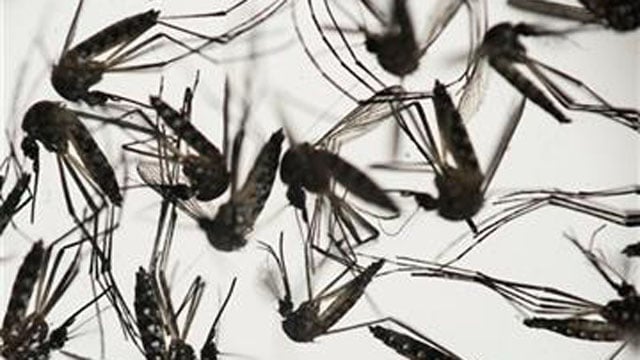 (AP photo)
WETHERSFIELD, CT (WFSB) -
State health officials are urging people to be wary of mosquitoes this summer.
The Connecticut Mosquito Management Program said it's been monitoring the insects since June 5.
It continues to collect them around the state to look for viruses like West Nile, Eastern Equine Encephalitis and Zika.
The program monitors 91 mosquito-trapping stations in 72 cities and towns across the state.
Last year, 170,000 mosquitoes were trapped in 20 towns, mostly in southern Connecticut. One elderly person in Milford contracted EEE and was hospitalized; however, no other illnesses or fatalities were reported.
No mosquitoes tested positive for the Zika virus last year. Though 115 residents tested positive for it, including seven pregnant women. The cases involved out-of-state travel.
Health officials urged people to wear light-colored long sleeved shirts and long pants made of tightly woven materials when outdoors, cover babies playpens and carriages with mosquito netting and eliminate any standing water on a property.
More information can be found on the state Department of Agriculture's website here.
Copyright 2017 WFSB (Meredith Corporation). All rights reserved.