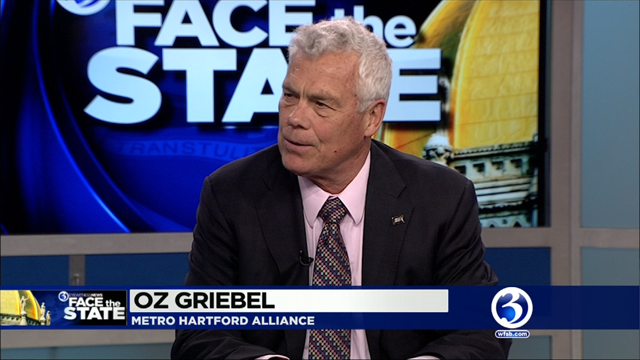 Oz Griebel. (WFSB)
HARTFORD, CT (WFSB) -
One of the state's biggest business leaders is stepping down.
Oz Griebel announced on Wednesday that he informed the MetroHartford Alliance that he will leave his position as president and CEO at the end of the year.
"It has been a genuine privilege to have worked with so many talented and dedicated individuals at the Alliance and those at our investors and other organizations throughout the State and at all levels of government," Griebel said. "Our successful efforts to ensure that the Region competes aggressively and successfully for jobs, capital, and talent have been based on a sustained combination of inspiration and perspiration and on a commitment to working together for the greater good.
Griebel is credited with the creation of the Hartford Business Improvement District and has helped with the recruitment of numerous major sporting events to the XL Center.
"I'm very pleased that Oz will remain with the Alliance for the remainder of the year to help us elevate the Alliance to world class status as an economic development organization and to identify his successor and that he will continue to contribute his considerable experience and energy to the region and the state," said Andy Bessette, executive vice president and chief administrative officer of Travelers Companies.
"I eagerly look forward to working with Andy, the Board, and my Alliance colleagues to ensure a smooth transition to our 2018 priorities and to a new leader who will bring fresh perspectives and ideas to the region," Griebel said.
Griebel has not said what he plans on doing after he leaves.
Copyright 2017 WFSB (Meredith Corporation). All rights reserved.