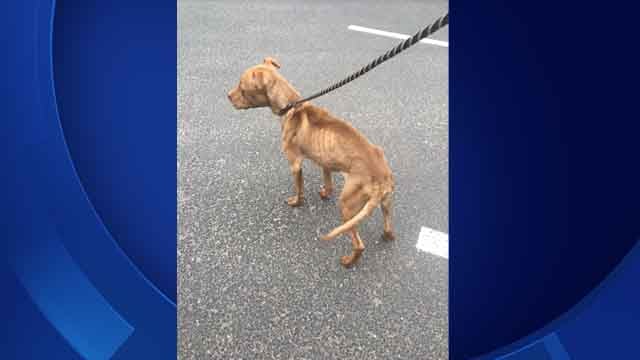 This is what the dog looked like when he was found in Woodbury (Woodbury Animal Control)
BRIDGEPORT, CT (WFSB) -
A Waterbury woman is facing animal cruelty charges after a dog she owned was dumped in Woodbury.
Police said 47-year-old Anita Howard was arrested on Monday and charged with cruelty to animals.
Howard reportedly adopted a pit bull from the Connecticut Humane Society in November of 2016. At that time, the dog weighed 57 pounds.
Animal control officers said Howard tried to return him on May 23 but was denied. On May 24, the dog was dumped and was found to be just skin and bones, weighing 39 pounds.
Officials were able to trace the dog back to the owner via microchip.
According to animal hospital officials, there was no medical reason for the dog's loss of weight, and a veterinarian said it was "pure starvation."
"In the first two weeks with Woodbury animal control he gained 11 pounds, he is now consistently gaining and has been adopted to a wonderful family who says he is perfect," police said in a press release.
Howard is expected to appear in court on July 5.
Copyright 2017 WFSB (Meredith Corporation). All rights reserved.