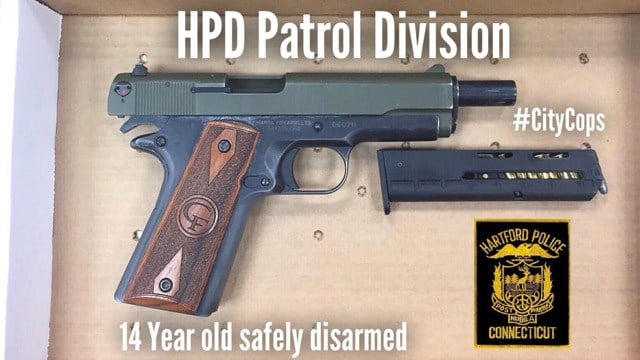 Hartford police said they safely disarmed a 14-year-old who was carrying this loaded gun. (Hartford police)
HARTFORD, CT (WFSB) -
Complaints about a boy carrying around a concealed gun prompted a response from Hartford officers on Wednesday.
Officers said they found the 14-year-old at Hyland Park on New Britain Avenue just before 8:45 p.m.
They said the call originally came in as a suspicious person with a gun.
A concerned citizen was able to provide police with a good description. The caller described the suspect as wearing a thin white t-shirt and pajama pants. The outline of a gun could also clearly be seen.
When they conducted surveillance of the area, they identified the suspect.
Police said they stopped the teen and found a loaded Chiappa .22 caliber on him. They said they were able to safely disarm him.
The boy's guardian was contacted and arrived on the scene.
He was referred to the city's juvenile court system and will likely be released, according to police.
His name was not released because of his age.
Copyright 2017 WFSB (Meredith Corporation). All rights reserved.