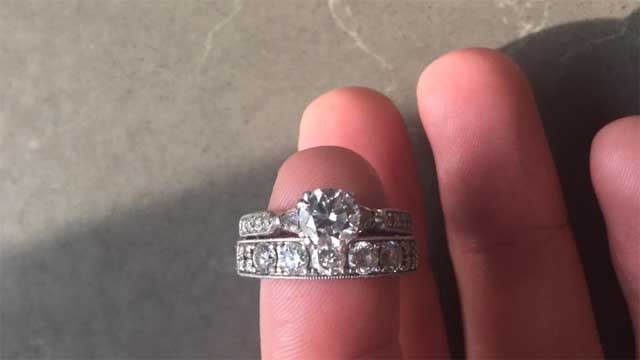 Noelle Rudloff is hoping the power of Facebook will reunite these rings with their owner (Noelle Rudloff)
FOXBOROUGH, MA (WFSB) -
A woman is hoping the power of Facebook can help her find the owner of an engagement/wedding ring combination.
Noelle Rudloff took to Facebook to share that she had found a diamond and platinum engagement/wedding ring combo at Gillette Stadium on Sunday, June 25 in the parking lot.
She and her husband were headed into the Massachusetts stadium for the U2 concert.
She wrote "We were at U2 this past Sunday (6/25) at Gillette Stadium and as we were headed through the parking area before the show my husband found a diamond and platinum engagement/wedding ring combo. As of now (according to Foxboro police and stadium security) no one has reported it missing. I am hoping through the power of FB, the ring can be reunited with its owner. It is obviously very special to someone (it is engraved with a unique message). Please consider sharing this post, especially if you know of FB friends that attended the U2 concert. Any inquiries can be directed to the Foxboro Police Department. Thank you!"
Rudloff wrote that Foxborough police and stadium security have not received any reports of someone missing the rings, but anyone with information should contact Foxborough police.
See her full Facebook post here.
Copyright 2017 WFSB (Meredith Corporation). All rights reserved.