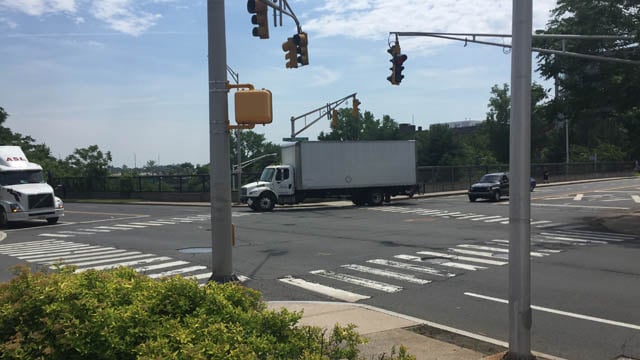 A man is in critical condition after being hit on Myrtle Street near Washington Street. (WFSB)
NEW BRITAIN, CT (WFSB) -
A 58-year-old man suffered serious injuries overnight after being struck by a driver who did not stay at the scene.
New Britain police said the unidentified man was found lying on Myrtle Street near Washington Street just before 1:50 a.m. on Friday.
They said his injuries were consistent with being struck by a vehicle.
The victim was unresponsive and sustained life-threatening injuries. He was transported to an area hospital where police said he was last listed in critical condition. Police said he did need emergency surgery.
"We know that somebody would have seen something whether it was a car speeding away, they heard the impact, anything," New Britain Police Chief James Wardwell said. "Give us a call."
The area is open to traffic.
New Britain resident Susan Faunce said she will be thinking about the criminal every time she crosses a street this weekend.
"If he cared so little about that person who's to say he cares about anybody," Faunce said.
Police said the investigation is ongoing and asked anyone with information to contact Sgt. Steven King at 860-826-3071.
Copyright 2017 WFSB (Meredith Corporation). All rights reserved.