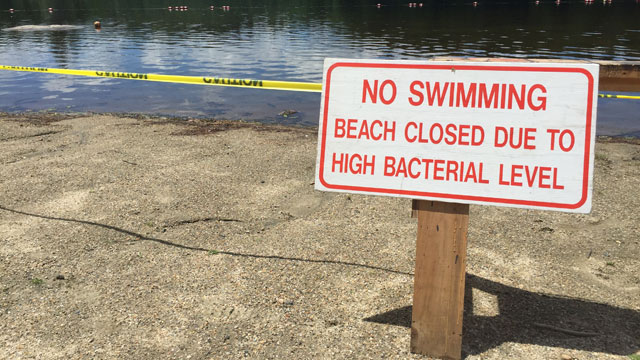 The swimming area at Burr Pond State Park in Torrington was closed for the Fourth of July.  (WFSB)
TORRINGTON, CT (WFSB) -
Water quality concerns closed a Connecticut swimming hole.
The swimming area at Burr Pond State Park in Torrington was closed for the Fourth of July. Swimming at Burr Pond has been closed since late last week.
While many people were spending the day kayaking, grilling out, and hanging out at Burr Pond State Park, the one thing they couldn't do was swim.
"Pretty bummed because it's a nice day and it would be nice to relax on the water and get a nice tan," Jessica Buchas, of Torrington, said.
According to the Department of Energy and Environmental Protection, they test for the presence of certain indicator bacteria. While the bacteria are not disease-causing pathogens, they're one of the tools used to evaluate potential contamination.
"It's pretty hot right now and yeah it would have been fun if we could have gone into the water," Justin Ernote, of West Hartford, said.
A sample from Burr Pond State Park will be taken again on Thursday with the hope of reopening on Friday.
Copyright 2016 WFSB (Meredith Corporation). All rights reserved.