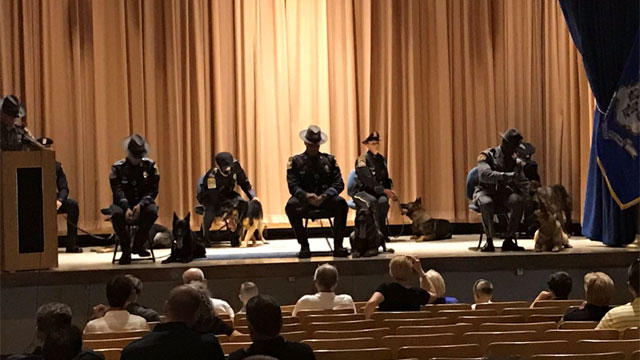 Six K9 teams graduated at a ceremony on Thursday morning. (WFSB)
MERIDEN, CT (WFSB) -
Seven dog and their handlers graduated during a ceremony on Thursday morning.
After 15 weeks of training, these K9s became part of the 187th Patrol Canine graduation class after a ceremony at the Connecticut Police Academy in Meriden around 10 a.m.
"Canines not only protect their handlers. They help find evidence, missing people. They do a variety of things and they are invaluable," Connecticut State Police Trooper Kelly Grant said.
Police said these German Shepherds were trained in the following areas:
obedience
patrol
locating missing persons
building searches
apprehending criminals
evidence recovery
crowd control
protecting their handlers
The K9s have been assigned to the following departments:
Trooper Jonathon Kelo and K9 Jack Dexter - Connecticut State Police Troop D – Danielson
Trooper Philip Soucy and K9 Argo - Connecticut State Police Troop K – Colchester
Corrections Officer Charles Ellison and K9 Ghost - Connecticut Department of Correction
Officer Jonathon Santiago and K9 Ranger and Officer Lindsey Gionfriddo and K9 Blaze - University of Connecticut Police Department
Officer Chris Zentek and K9 Blaze - Waterbury Police Department
Officer John Carlson and K9 Bane - Cromwell Police Department
Copyright 2016 WFSB (Meredith Corporation). All rights reserved.