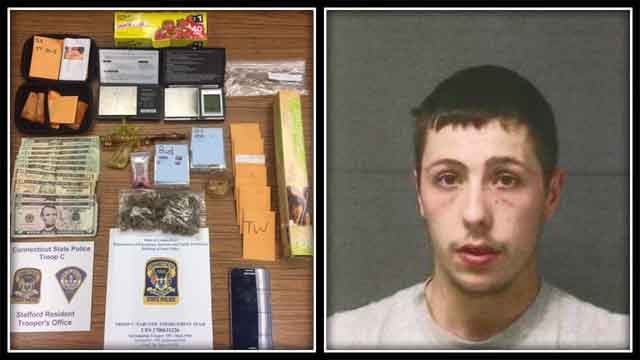 Travis Winans is facing multiple drug charges (CT State Police)
TOLLAND, CT (WFSB) -
An attempt to serve an arrest warrant led to a drug bust in Tolland on Sunday morning.
State troopers went to a home on Willington Avenue to serve an arrest warrant for 24-year-old Amber Blanchette.
When troopers arrived, 20-year-old Travis Winans had said Blanchette was in an adjacent bedroom.
Once inside the apartment, police found drug paraphernalia, including butane torches and equipment that are commonly used to make high potency THC, known as "Dabs."
Police also found packing materials, marijuana, scales, and THC oil.
Blanchette was turned over to the Manchester Police Department.
Winans was arrested and charged with possession of marijuana with intent to sell, possession of over 0.5 ounces of marijuana, possession of drug paraphernalia, and operating a drug factory.
He was held on a $50,000 bond and is expected to appear in court on Monday.
Copyright 2017 WFSB (Meredith Corporation). All rights reserved.