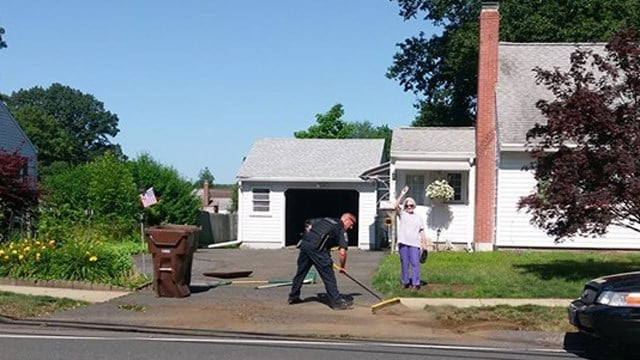 Enfield Officer Chris Dufresne helps a woman after a driver knocked over a container of brush. (Athena Doughtie/Facebook photo)
ENFIELD, CT (WFSB) -
It was an act of kindness caught on camera.
Sunday, one of Enfield's finest came to the rescue of an elderly woman after a vehicle went by and knocked over her container of brush.
She was been doing yard work at the time.
Officer Chris Dufresne noticed the mess all over the woman's driveway and stopped.
An eyewitness recorded him picking up a broom and sweeping up the grass clippings and other debris.
"This nice gentleman pulled over and saved the day," said Athena Doughtie in a Facebook video.
Doughtie's post was shared hundreds of time and even prompted a response post from the Enfield Police Department.
"Often times it is the one or two negative things that go viral while the many positive things remain unnoticed," police posted. "Thanks for the positive post Athena Doughtie. That is K9 Officer Dufresne."
Copyright 2017 WFSB (Meredith Corporation). All rights reserved.