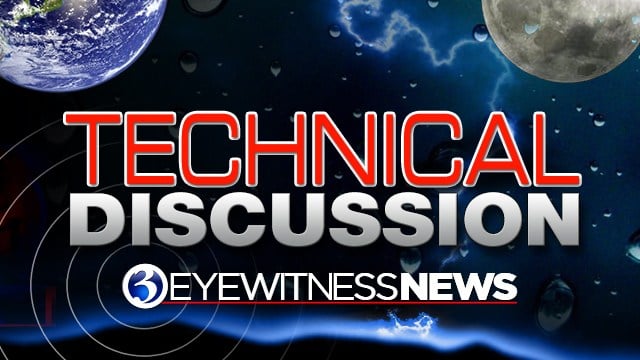 HARTFORD, CT (WFSB) -
MORE UNSETTLED WEATHER TODAY…
A backdoor cold front will slowly slide southward across Southern New England today. This will trigger more showers and thunderstorms, some of which could be strong to severe with gusty winds and hail. The Storm Prediction Center in Norman, Oklahoma has placed all of Connecticut in a marginal risk area for severe weather. Heavy rainfall is also a big concern since there is so much moisture in the air. Much like yesterday, flash flooding is possible. Temperatures will rise into the 80s and the humidity will be uncomfortably high once again. High temperatures near 90 are possible if the front stays to the north of Connecticut throughout the day.
WET & MUCH COOLER TONIGHT & TOMORROW…
The cold front will slip to the south of Connecticut during this time period and a cooler northeasterly flow will develop. Connecticut will be caught in a damp maritime flow between the front to our south and high pressure to our north. Temperatures will dip into the upper 50s and 60s tonight. Tomorrow will be unseasonably cool with highs only in the 60s to near 70 degrees. Plus, we'll have to deal with overcast skies and periods of rain. There is also a chance for strong thunderstorms, especially in Southwestern Connecticut. The coolest high temperature on record for the Greater Hartford Area for July 14th is 69 degrees and that was set in 1960. It'll be very close!
A NICE JULY WEEKEND…
The wet weather will depart by late tomorrow night and drier air will move in for the weekend. Great timing! Saturday will be partly sunny and seasonably warm with highs in the low and middle 80s. The humidity won't be too bad. Lows Saturday night will be in the upper 50s and 60s under a mainly clear sky. Sunday will be partly sunny and warmer with highs in the 80s. The mercury might even take a run at 90 degrees in portions of Northern Connecticut. The humidity will be moderate.

MONDAY THROUGH WEDNESDAY…
We will have several days of very warm weather early next week. High temperatures will be in the 80s to near 90 degrees all 3 days and the humidity will be higher again. Overnight lows will be in the mid to upper 60s. Our weather will be dry most of the time, but scattered showers and thunderstorms are quite possible each day especially during the afternoon and evening hours.
Chief Meteorologist Bruce DePrest with Scot Haney
"Copyright 2017 WFSB (Meredith Corporation). All rights reserved"