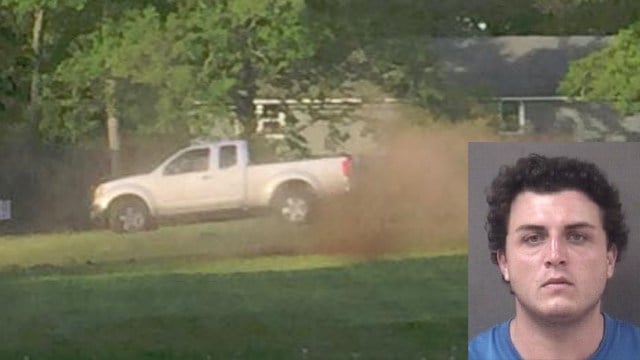 William Varnum was arrested for doing donuts at a beach association in Milford, according to police. (Milford police)
MILFORD, CT (WFSB) -
A man in Milford faces charges for doing donuts on beach association property.
William Varnum, 23, was charged with first-degree reckless endangerment, first-degree criminal mischief, third-degree criminal mischief and evading responsibility.
Police said Varnum caused thousands of dollars worth of damage to Laurel Beach Association Property on Court Street back on May 21.
Along with the damage, police said Varnum also steered his truck in the direction of a bicyclist who tried to stop him.
Varnum ran over the bike after the cyclist had fallen off, according to police.
An eyewitness was able to take surveillance photos of the incident.
Varnum was released on a promise to appear in Milford Court on Aug. 8.
Copyright 2017 WFSB (Meredith Corporation). All rights reserved.