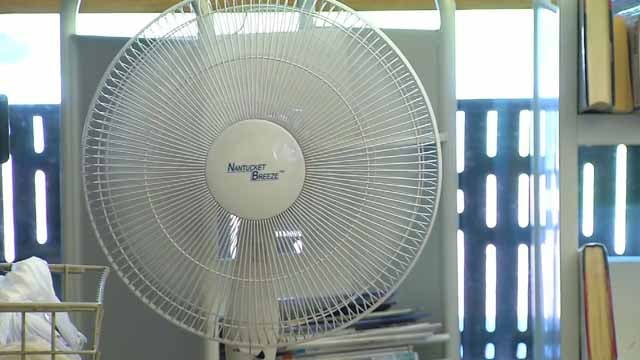 Simsbury has opened up cooling centers ahead of an expected heat wave (WFSB file photo)
SIMSBURY, CT (WFSB) -
Cooling centers throughout Connecticut will be open this week to help residents cope with the heat over the next few days.
Temperatures are forecast to hit 90 degrees at least into Saturday. An air quality alert has been issued for Wednesday along the shoreline from 11 a.m. to 11 p.m. That means people with sensitive breathing conditions should stay inside as much as possible.
The town of Cheshire opened these spots:
Cheshire Senior Center, 240 Maple Ave., Hours: 9 a.m. to 4 p.m.
Cheshire Public Library, 104 Main St., Hours: 9 a.m. to 8:30 p.m.
In East Hartford, Mayor Marcia Leclerc opened the following cooling centers:
South End Senior Center, 70 Canterbury St. Hours: 8:30 am to 4:30 pm (Monday- Friday)
Raymond Library, 840 Main St. Hours: 9 a.m. to 8 p.m. (Monday-Thursday), 9 a.m. to 5 p.m. (Friday & Saturday)
Public Safety Complex (Police Lobby), 31 School St. Hours: 24 Hours (All Days)
The mayor's office in Bristol posted these cooling centers:
Bristol Public Library, 5 High St., 860-584-7787. Hours: Wednesday & Thursday: 8:30am-8pm

Manross Memorial Library, 260 Central Street, 860-584-7790. Hours: Wednesday & Thursday: 10am-8pm

Senior Center, 240 Stafford Ave. 860-584-7895. Hours: Wednesday & Thursday: 8:30 am - 5:00 pm
Simsbury town officials said they are opening the following cooling centers to the public:
Simsbury Public Library, 725 Hopmeadow St., 860 658-7663 Hours: Wednesday and Thursday 9:30 am – 8:30 pm, Friday 9:30 am – 5:30 pm

Eno Memorial Hall, 754 Hopmeadow St., 860 658-3273 Hours: Wednesday and Thursday 8:30 am – 4:30 pm Friday 8:30 am – 1 pm
For more information, Simsbury residents can reach out to the Simsbury Social Services Department at 860 658-3283.
New London city officials said they are opening the following cooling centers to the public:
Senior Citizen Center, 120 Broad St., 860-447-5232 Hours: Wednesday through Friday 8:30 am – 4:30 pm
Splash pads are available at the following locations:
Quassy Amusement Park in Middlebury
The Recreational Comlpex on Old Hebron Road in Colchester
Willow Street Park in New Britain
Rockwell Park at Jacobs Street and Dutton Avenue in Bristol
Lauter Park on Jackson Street in Willimantic
Wolcott Park on New Britain Avenue in West Hartford
Kennedy park on Oakwood Avenue in West Hartford
South Genesee Park, South Genesee Street, New Haven
Cedar Hill Playground, View Street and Rock Streets, New Haven
Edgewood Park, Corner of Chapel Street & Ella T. Grasso Blvd., New Haven
Kensington Street Park, Between Edgewood Ave & Chapel Street, New Haven
Jocelyn Square Park, Corner of Humphrey & East Streets, New Haven
Ann Street Park, Between Kossuth & West Streets, New Haven
Trowbridge Square Park, Cedar and Portsea Streets, New Haven
Galvin Park, Greenwich Avenue and First Street, New Haven
Lighthouse Point Park, 2 Lighthouse Road, New Haven
Scantlebury Park, Ashmun Street and Bristol Street, New Haven
Lewis Street, Front Street, New Haven
Dover Beach, Front Street, New Haven
Colt Park on Westhersfield Avenue in Hartford
Goodwin Park on Maple Avenue in Hartford
Keney Park on Tower Avenue in Hartford
Kavanagh Park on Trask Road in Old Saybrook
Cosey Beach Park on Ocean Avenue in New London
The Dinosaur Place on Hartford-New London Turnpike in Oakdale
Rogers Park on Memorial Drive in Danbury
Lake Mohegan on Morehouse Highway in Fairfield
Simple ways authorities have advised residents to beat the heat include:
Stay hydrated
Avoid prolonged sun exposure
Check on elderly family members and neighbors
Never leave children or pets in an unattended vehicle
Drink plenty of water throughout the day
Wear lightweight, loose fitting clothing
Limit your time outdoors
Symptoms of heat-related illnesses include the following:
Headache
Dizziness
Fatigue
Anxiety
Nausea
Vomiting
Low pulse rate
Other symptoms may include cold, pale and clammy skin or hot, flushed dry skin
Copyright 2017 WFSB (Meredith Corporation). All rights reserved.