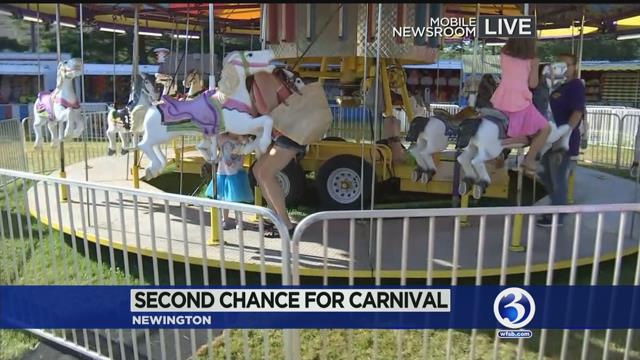 (WFSB)
NEWINGTON, CT (WFSB) -
A fun summer tradition gets a second chance after a wash out last week.
Crews were gathered at Mill Pond Park in Newington on Wednesday night.
The rides, games and food are all ready to go for four more nights of fun. The storms closed the carnival on Thursday and dampened turn out on Wednesday and Friday.
The carnival company was available so Newington Parks and Rec Superintendent Bill DeMaio worked out a deal for them to stay for this week.
Even the heat and humidity were not enough to keep people away from the carnival.
"For the carnival, we have food trucks stocked with ice cold water and drinks," DeMaio said. "I think people as long as they stay hydrated and go on some fast rides that drive them crazy, that will help them out a little bit."
This is the biggest fundraiser of the year for the Newington Parks and Recreation Department, which doesn't get funding from the town.
Copyright 2017 WFSB (Meredith Corporation). All rights reserved.