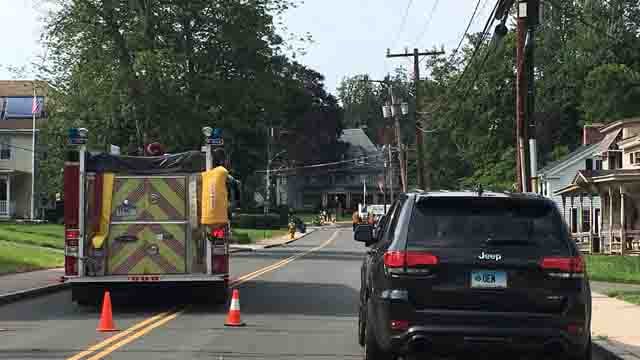 Crews responded to a natural gas leak in Vernon on Thursday (WFSB)
VERNON, CT (WFSB) -
A natural gas leak in Vernon prompted evacuations to homes in the area on Thursday.
The leak was reported in the area of Prospect Street and Elm Street, around 3:30 p.m.
Fire crews and police were called to the scene, and police had called it a "major gas leak."
Eversource was already on site doing some work when they noticed the leak.
Officers said there was a strong smell of natural gas when they arrived moments later, so they immediately evacuated the surrounding homes, including a veterans home with several residents.
"We got them out. The ones that weren't able to walk, brought in transportation to senior center. Other officers evacuated other house and took care of them as well," said Vernon Officer Aaron Grechko.
Officers took the people evacuated to the senior center just a few blocks away. People have since been let back into their homes.
Eversource has since cleared from the scene.
Copyright 2017 WFSB (Meredith Corporation). All rights reserved.