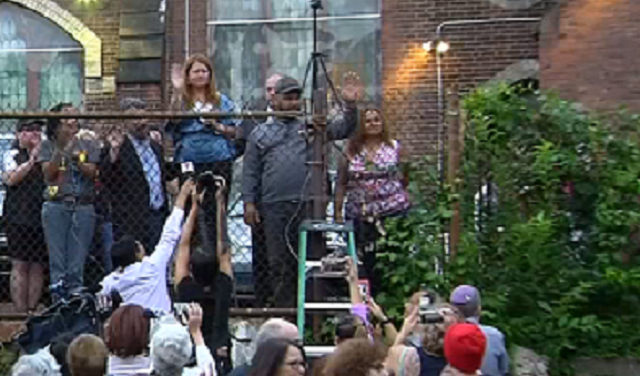 Dozens of supporters joined together outside of a New Haven church for a woman who faces deportation. (WFSB)
NEW HAVEN, CT (WFSB) -
Dozens of supporters joined together outside of a New Haven church on Sunday evening for a woman who faces deportation.
Norwalk resident, and mother of 4, Nury Chavarria is seeking refuge in a New Haven church while she waits to hear if she will be deported to her native Guatemala.
Chavarria is considered by Immigration and Customs Enforcement, or ICE, as a fugitive from justice despite having worked, paid taxed, and raised a family for the 19 years in Norwalk.
"We showed up because this is what our country stands for," said supporter of Chavarria and New Haven resident, Lee Cruze. "The rights of the immigrant to come and be among us."
The Mayor of New Haven, Toni Harp, and the Mayor of Norwalk, Harry Rilling, spoke with Chavarria and were amongst the speakers at the 'vigil' expressing their support.
Copyright 2017 WFSB (Meredith Corporation). All rights reserved.