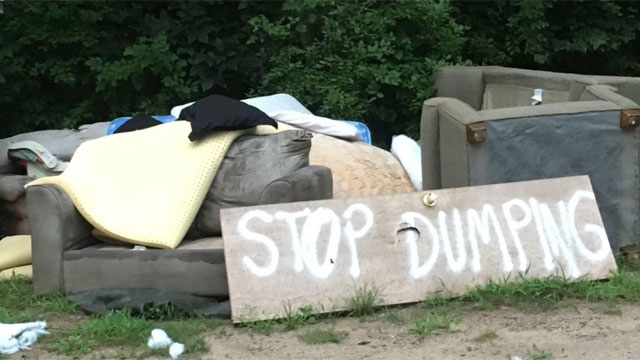 Police look into illegal dumping on Route 140. (East Windsor Police Department)
EAST WINDSOR, CT (WFSB) -
Police are warning residents about illegal dumping in East Windsor.
The police posted a photo of some illegal dumping on Route 140 by Harrington Road on Tuesday. The picture showed a sign that stated "stop dumping" and showed multiple furniture and blankets.
"East Windsor is a beautiful town. Help us keep it that way. Don't dump and report those that do," the Facebook post stated.
Police did not say if anyone was arrested in connected with the illegal dumping on Route 140.
Police advised residents that that bulky waste drop-off is free for residents on Sept. 30 at 9 Shoham Road from 7:30 am to 11:30 am.
To learn more about bulky waste and metal drop in East Windsor, click here.
Copyright 2017 WFSB (Meredith Corporation). All rights reserved.