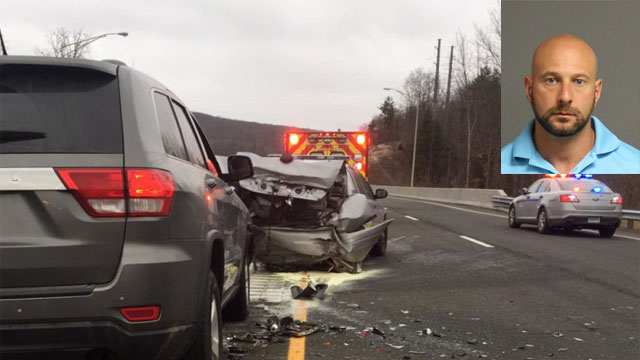 Danbury resident Brian L. Glasser was arrested after police said he crashed into a cruiser on Route 7 in Brookfield earlier this year. (CT State Police)
BROOKFIELD, CT (WFSB) -
A 38-year-old man was arrested after police said he crashed into a cruiser on Route 7 in Brookfield earlier this year.
Danbury resident Brian L. Glasser was charged with reckless driving, failure to drive at a responsible distance, operating a vehicle while sending a text message, third-degree assault, and first-degree reckless endangerment.
The arrest of Glasser comes after a crash on the northbound side of Route 7 near exit 12 around 8:15 p.m. on January 23.
A Connecticut State Police cruiser had its emergency lights on and was in the left lane for a motor vehicle crash. The vehicle involved in the crash was hooked up to the wrecker when police said Glasser's 2013 Jeep Grand Cherokee crashed into the rear of the cruiser.
Trooper Karen Nixon suffered a minor injury and was rushed to Danbury Hospital, police said. Nixon remained out of work after the crash, police said.
Police said Glasser remained on scene. He complained "of a minor injury, but declined medical attention at the scene," police said.
Both the cruiser and the 2013 Jeep Grand Cherokee sustained extensive damage.
Glasser surrendered to Connecticut State Police on Wednesday. He is due in Danbury Superior Court on Aug. 8.
Copyright 2017 WFSB (Meredith Corporation). All rights reserved.