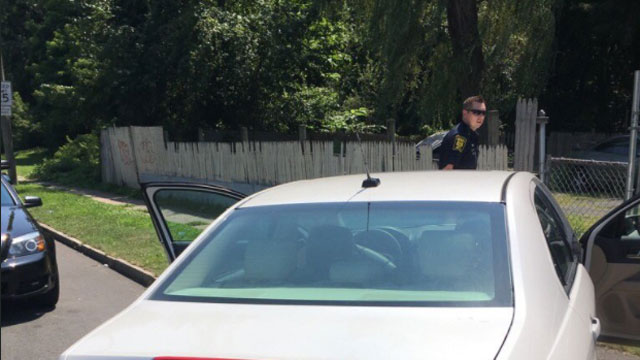 Hartford police recovered 16 stolen vehicles on Monday. (@LtFoley)
HARTFORD, CT (WFSB) -
Seven people were arrested and 16 stolen motor vehicles were recovered by the Hartford Police Department on Monday.
The operation was conducted by the Hartford Police Major Crimes Division Auto Theft Unit. During the full-day/night operation, police said of the 16 vehicles, 11 were stolen with keys inside them. Of stolen vehicles, 11 were from out of Hartford.
Police said the current market value of the stolen vehicles recovered was about $145,750.
2014 Audi A6, Farmington w/keys
2007 Chevy Equinox, Hartford w/keys
2004 Chevy Malibu, Wethersfield w/keys
2012 Ford Focus, Hartford w/keys
2012 Ford Fusion, Rocky Hill w/keys
2013 Ford Fusion, South Windsor w/keys
2004 Honda Civic, Hartford w/keys
2001 Hyundai Sonata, West Hartford w/keys
2007 Lexus ES350, Newington
1994 Honda Accord, Hartford
2011 Kawasaki KX250 Dirt Bike, East Hartford
2002 Ford Explorer, Middletown w/keys
2004 Ford Taurus, Hartford w/keys
1998 Chevy Prizm, Manchester
2016 Subaru Forester, West Hartford w/keys
2013 Acura TL, Farmington
Police also towed four off-road vehicles, two dirt bikes, and two all-terrain vehicles.
There was no damage to city vehicles during the operation. Police said there were "no pursuits, no injuries to officers or suspects, no citizen complaints and no use of force numbers pulled."
Police also said the city of Hartford "is currently at a 13.8% reduction in auto thefts from this time last year."
The following people were arrested in connection with the stolen vehicles:
Jermaine Davis, 28, of Wethersfield,
Daryn Johnson 33, of Hartford,
London Jones, 44, of Windsor,
Jose Padilla, 19, of Hartford,
Christopher Cruz-Morales, 24, of Hartford,
Dale Barrows, 28, of East Hartford,
A 17-year-old East Hampton resident
Copyright 2017 WFSB (Meredith Corporation). All rights reserved.