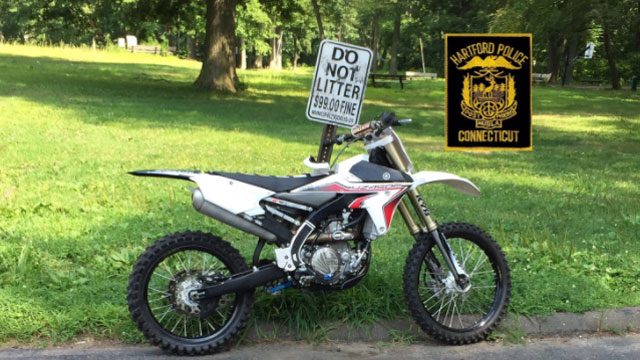 A dirt bike that was stolen from Suffield and seized by police in the capital city. (Hartford Police Department)
HARTFORD, CT (WFSB) -
Police in Hartford recovered a dirt bike that was stolen from Suffield last week and seen "driving recklessly" through the capital city.
The owner of the dirt bike spotted the vehicle for sale on several websites. The owner notified the Hartford Police Department Major Crimes Auto Theft Unit and detectives saw the dirt bike "for sale" on the Offer Up website.
Detectives from the Hartford Police Department Major Crimes Auto Theft Unit set up a meeting with "seller" for the dirt bike and "instructed him to meet in Keney Park."
Police said the suspect, who was later identified as East Hartford resident 19-year-old DeShaun Fitzpatrick, arrived at the park with the dirt bike in a pickup truck.
Police arrested Fitzpatrick and seized the dirt bike. He was charged with third-degree larceny and interfering with police.
Hartford Police Department posted a picture of the dirt bike on social media saying "cops have social media too...Maybe don't sell your stolen stuff online."
The incident was also a chance for police to remind residents to use the safe lot at the police department for all online transactions.
Copyright 2017 WFSB (Meredith Corporation). All rights reserved.