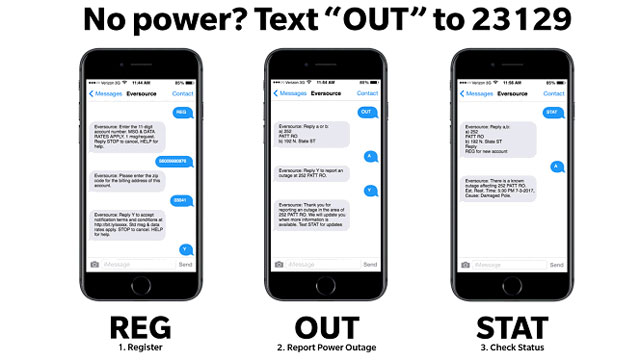 Eversource customers can now report a power outage and get updates on that outage through text messages. (Eversource)
BERLIN, CT (WFSB) -
Eversource customers can now report power outages and get updates on service through text messages.
The utility company unveiled its latest two-way text option.
Customers can register their mobile device online by clicking here or by sending the word "REG" to 23129 from the mobile device. Once registered, customers can find out outages by texting the word "Out" to 23129. Customers can text the word "STAT" to get updates.
"We are always working to enhance the ways we interact with our customers and want to make it as easy as possible for them to reach us," Eversource Senior Vice President and Chief Customer Officer Penni Conner said in a statement on Tuesday. "Many people rely on text messages for updates from family, friends and others, so giving our customers the option to get updates on their energy service is a natural fit. We're encouraged by the positive response so far – with hundreds of people signing up each week in the short time since we launched this new service."
Customers can also report outages online or by calling 1-800-286-2000
For more details on how the service works and how to sign up, click here.
Copyright 2017 WFSB (Meredith Corporation). All rights reserved.