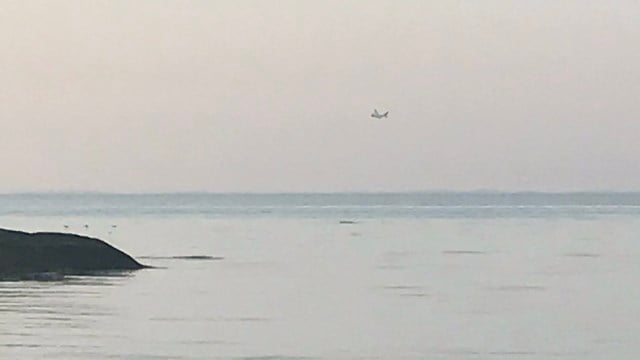 The Coast Guard is searching Long Island Sound after reports of two red flares late Wednesday (WFSB).
MADISON, CT (WFSB) -
The U.S. Coast Guard has suspended its search in Long Island Sound off the coast of Madison on Wednesday morning.
Authorities did not locate anyone, any signs of distress or any debris, so the U.S. Coast Guard suspended its search around 10 a.m. on Thursday.
According to Coast Guard officials, the search started after two flares were spotted by two different sources around 10:45 p.m.
On Thursday morning, two unmarked kayaks were found about a mile off the shore of Madison. However, the Coast Guard said neither contained any gear nor showed any signs of recent use. There was no water in the kayaks, which were blue and yellow, or indications that the vessels capsized recently.
Fire department boats from Madison, Guilford, Westbrook, and Clinton searched the water along with a 45-foot Coast Guard boat overnight. The Coast Guard completely took over the search by mid-morning. The Coast Guard boat was joined by a fixed-wing aircraft from the Coast Guard station in Cape Cod at daybreak.
"I came down to go for my morning paddle board and there were fire trucks here and firefighters looking out at the sea," said Matt Kenna, an eyewitness. "And I went out and saw the Coast Guard plane flying around."
Eyewitness News was told that no one has been reported missing in the area.
Copyright 2017 WFSB (Meredith Corporation). All rights reserved.