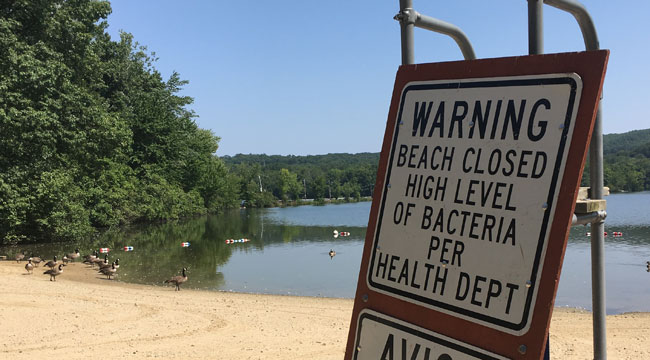 Lakewood Beach is closed until further notice. (WFSB)
WATERBURY, CT (WFSB) -
Lakewood Beach in Waterbury was closed in the middle of summer because of bacteria levels, but new test results say it can reopen on Friday.
Waterbury Mayor Neil O'Leary posted the closure to his Facebook page on Wednesday.
The city closed down the beach at Lakewood Park after testing showed elevated levels of bacteria in the water.
"It is frustrating, because to come to the beach and you can't go in the water, defeats the purpose," said Michael Alleyne of Waterbury.
With the number of geese that call the park home, unfortunately it's a common occurrence.
In fact, it's not the first time this summer the Brass City made the beach off limits.
They had to close for a couple of days in June, once again in July, and now August.
The health department is continuing to re-test the water, but the beach is expected to reopen on Friday.
Copyright 2017 WFSB (Meredith Corporation). All rights reserved.