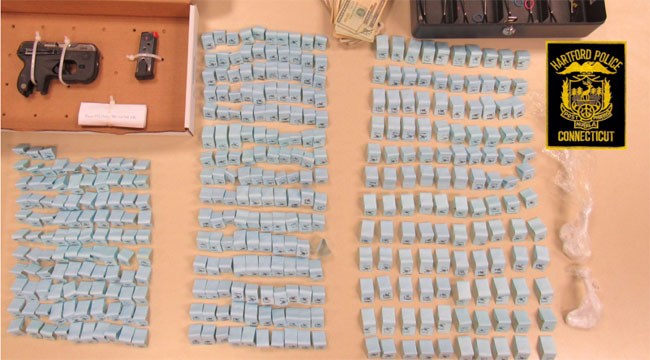 Members of the Hartford Police Department Vice and Narcotics Unit seized Heroin and a firearm during a motor vehicle stop in Hartford on Wednesday.  (@LtFoley)
HARTFORD, CT (WFSB) -
Police seized Heroin and a firearm during a motor vehicle stop in Hartford on Wednesday.
The drugs and a .380 caliber gun were taken during the stop near 222 Park St.
Members of the Hartford Police Department Vice and Narcotics Unit arrested Ellington resident, 40-year-old Julio Aponte. He was charged with criminal possession of a firearm, carrying a pistol without a permit, weapons in a motor vehicle, possession of narcotics, possession of narcotics with intent to sell and motor vehicle tint sticker violation.
Copyright 2017 WFSB (Meredith Corporation). All rights reserved.