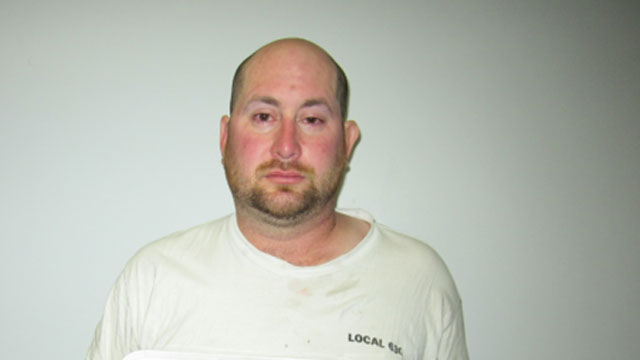 Lee Mitchell is accused of pointing a handgun at campers in East Hampton on Thursday night.  (East Hampton Police Department)
EAST HAMPTON, CT (WFSB) -
A Kansas man is accused of pointing a handgun at campers in East Hampton on Thursday night.
Police charged 33-year-old Lee Mitchell, of Augusta Ks., with first-degree threatening, breach of peace, first-degree reckless endangerment, possession of a firearm while under the influence, weapon in a motor vehicle, illegal discharge of a firearm, driving under the influence of intoxicating liquor, drug or both, and operating under suspension.
The arrest of Mitchell comes after officers were called to Mott Hill Road for "a report of a man driving erratically and pointing a handgun at campers." Upon arrival, police spotted Mitchell driving southbound toward Lake Drive.
Officers stopped the vehicle and during the stop, they noticed a loaded handgun on the front seat of the vehicle.
Mitchell is being held on a $25,000 bond. He is expected to appear in Middletown Superior Court on Friday.
Copyright 2017 WFSB (Meredith Corporation). All rights reserved.