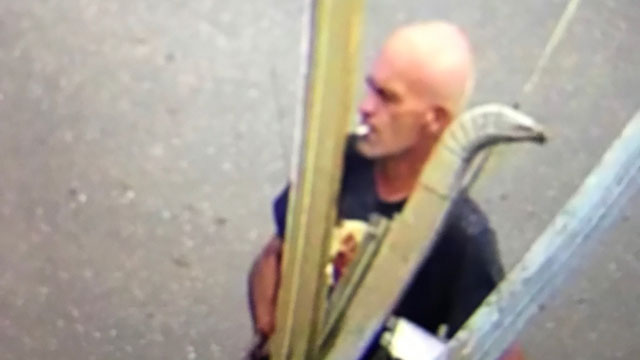 Police are searching for this man in connection with some thefts at Wolcott Recycle Center. (Wolcott Police Department)
WOLCOTT, CT (WFSB) -
Police are searching for the people responsible for thefts in Wolcott including at the town recycling center this week.
Police have received multiple reports of burglaries and larcenies that took place during both the day and night this past week in Wolcott.
According to the Wolcott Chief of Police Ed Stephens, several backpack blowers, car and truck batteries, car wheels, and a car were stolen from homes in town. Scrap metal is also missing from the Town of Wolcott Recycling Center.
Video taken during the theft at the recycling center shows a suspect and a vehicle that he and his accomplice drove off in. Police, however, do not know if this theft is related to the other incidents.
The Wolcott Police Department Detective Division is asking the public to help locate the suspect who is described as a middle age white man, who was wearing slippers. The vehicle involved appears to be an older dark blue or black Ford Explorer.
Anyone with any information about the thefts can call the Wolcott Police Detective Division at 203-879-1414.
To see pictures of the suspect and the vehicle involved on your mobile device, click here.
Copyright 2017 WFSB (Meredith Corporation). All rights reserved.