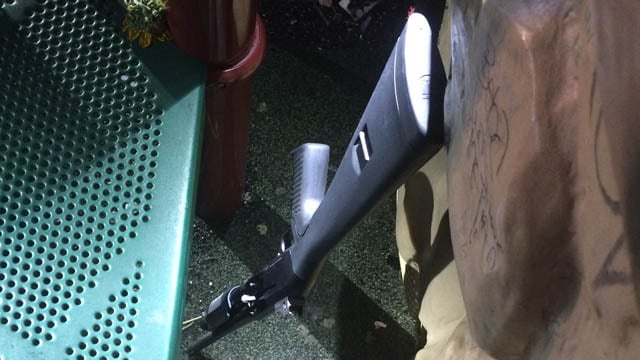 A shotgun was found hidden in a Pope Park playscape last year. (Hartford police photo)
HARTFORD, CT (WFSB) -
A year after a shotgun was found ditched in a Hartford playscape, police said they made an arrest.
Brayan Villegas, 26, of Hartford, was arrested on Thursday and charged with second-degree reckless endangerment and removing identification marks on a firearm.
The incident happened on July 17, 2016 and began with a report of shots fired on Zion Street. The U.S.A. Corp. M3 Super 90 shotgun with three live rounds was later found on the eastern side of Pope Park. It had an obliterated serial number.
An eyewitness told police that the suspect fled westbound toward Park Terrace.
Investigators later identified Villegas as the suspect.
He was taken into custody on Thursday during a scheduled probation meeting on Wawarme Avenue.
At headquarters, police said he confessed to firing the shotgun, fleeing the scene and abandoning it inside the playscape at the park.
Police said an additional arrest warrant for the shots fired incident is expected. He'll be appropriately charged for that incident at that point.
Copyright 2017 WFSB (Meredith Corporation). All rights reserved.