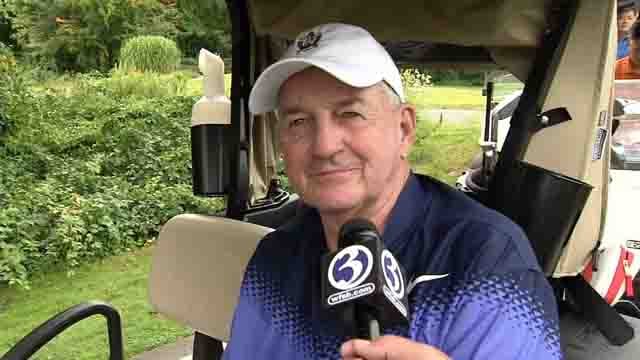 Jim Calhoun was golfing in a charity tournament on Monday (WFSB)
HARTFORD, CT (WFSB) -
Rumors have been swirling that the retired UConn men's basketball coach could be returning to the court at the University of Saint Joseph.
Eyewitness News caught up with Jim Calhoun while he was golfing in a charity event on Monday.
He didn't go as far as saying he was going to coach again, but he did say he's been involved in the process.
St. Joseph's recently voted to make the campus co-ed after being all women's school for decades.
That means they are also starting up a men's basketball team.
Calhoun said he's known the athletic director at the school for years and has met with him to help him start up the program.
However, when it comes to returning to coaching, he said "I'm going to have to go to the 'CEO' of the Calhoun household before we think about that, but the idea of going co-ed and doing something in basketball like everybody else, like every other coach you talk to in the country that's not coaching, it intrigues you."
In a statement, St. Joseph's said "We'll let Coach Calhoun's comments stand on their own, while noting we couldn't think of a better person to inaugurate the University of St. Joseph's first ever men's basketball team. Right now there is nothing further to announce."
Copyright 2017 WFSB (Meredith Corporation). All rights reserved.