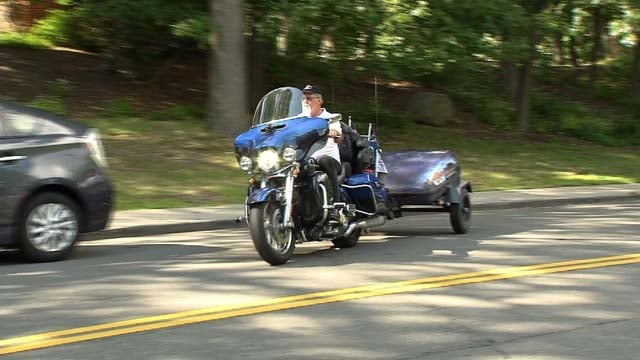 David Cowan is on a 14,000-mile journey that brought him to Connecticut. (WFSB)
HARTFORD, CT (WFSB) -
Crossing the country on a motorcycle to raise money for a personal cause, David Cowan is on a 14,000-mile journey that brought him to Connecticut.
Cowan lost his wife Alison, to a rare form of melanoma in 2010.
After she died, Cowan said he never felt more helpless and lost, so he's honoring her memory by creating a free cancer directory.
"Ali's Alliance" is an online directory for patients and caregivers to find resources and services as close to home as possible.
After approximately 14,000 miles around the country, he'll be back home in Florida by the end of the month.
"I've talked to people in rest stops, I've talked to people in diners, I've talked to people in health clinics, anywhere where I can start a conversation about the difficulties faced by people who are managing cancer," Cowan said.
The site launched in 2012 with 2,500 resources and now has almost 17,000.
Check out "Ali's Alliance" here.
Copyright 2017 WFSB (Meredith Corporation). All rights reserved.