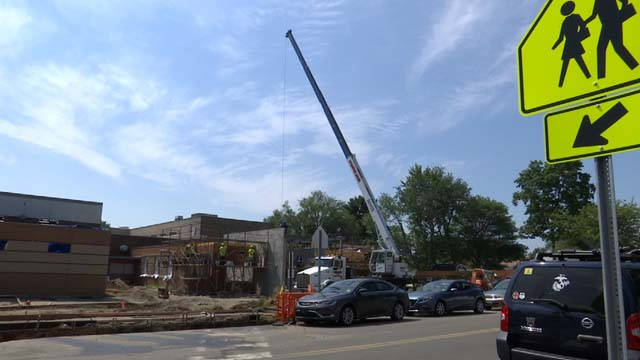 Construction at the West Shore Middle School began in March. (WFSB file)
MILFORD, CT (WFSB) -
A middle school in Milford delayed its first day of school to wrap up construction.
The principal announced on Tuesday that the West Shore Middle School would open on Thursday to begin the school year.
Classes begin at 8 a.m. and the day ends at 2:45 p.m., according to Principal Paul Cavanna.
"The three day delay in opening will insure that all of the classrooms to be occupied by our students will be completely ready to receive them," Cavanna said. "The extra time will give teachers the ability to prepare their classrooms properly and for secretaries and custodians to complete their final tasks before students arrive on Thursday."
The extra days also allowed inspectors to ensure the buildings are approved for occupancy.
Cavanna said construction would continue on school grounds; however, most of the work is on another side of the building away from classrooms.
"Work is underway in the main entrance, front pickup and drop-off loop, main office, gymnasium, and the media center," Cavanna said. "While this work continues, we will use the alternative pickup and drop-off procedure that was implemented in the spring of last year."
Copyright 2017 WFSB (Meredith Corporation). All rights reserved.