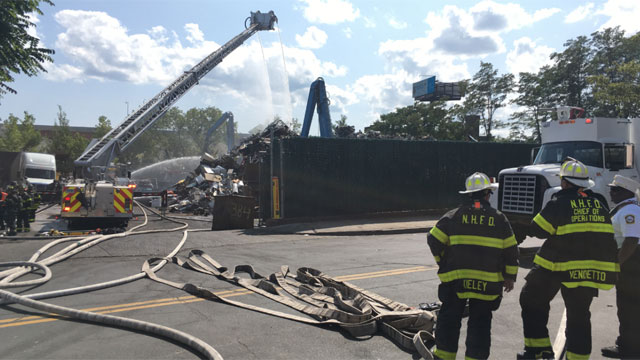 Firefighters knocked down a fire at a scrapyard in New Haven. (WFSB)
NEW HAVEN, CT (WFSB) -
Firefighters knocked down a fire at a scrap yard in New Haven on Thursday afternoon.
The fire was reported at the Alderman and Dow Iron and Metal Company, which is located at 358 Chapel St., around 2 p.m. Firefighters were able to get the fire under control in 20 to 30 minutes.
The size of the scrap yard and the elements made for a challenging fight, according to New Haven Fire Assistant Chief Mark Vendetto.
"Its very difficult, one the fire is deep seated into the metal, so we need to get to the bottom of the metal move it around, also get our hose lines in place," Vendetto said. "We're also dealing with oils that can be on the ground, slip, trip-fall hazards and once we establish the water source we're aiming from a distance, we keep our firefighters back to make sure they're in a safe zone."
There were no reported injuries. Everyone working in the area was able to evacuate, authorities said.
The cause of the fire is under investigation.
Copyright 2017 WFSB (Meredith Corporation). All rights reserved.