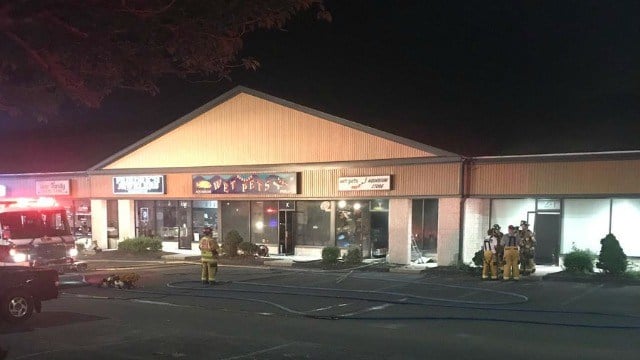 Vernon firefighters are on scene of a fire in a pet store (WFSB).
VERNON, CT (WFSB) -
Firefighters battled a fire at pet store in Vernon early Friday morning.
According to emergency officials, crews were called to the Vernon Commons at 520 Hartford Tpke. shortly before 3 a.m. on Friday.
A fire marshal who had been driving by noticed smoke coming from inside the Wet Pets store, which is a salt and freshwater aquarium store.
Firefighters found a fire in the back of the store after they arrived. It was quickly knocked down.
"We gained entry to the building [and there was] heavy smoke conditions we had to work through to locate the actual fire," said Chief Stephen Eppler, Vernon Fire Department. "[It was a] relatively small fire. It was knocked down quickly."
The owner of the store told Eyewitness News that firefighters woke him up earlier in the morning with the devastating news. He said he's worried about the thousands of fish in the store.
"We have massive selection of corals and they're probably all dead from the heat," said Donald Allen, owner, Wet Pets. "So I'll have to go address that."
The fire was confined to the store, and no injuries were reported.
Fire investigators are looking for a cause.
Copyright 2017 WFSB (Meredith Corporation). All rights reserved.