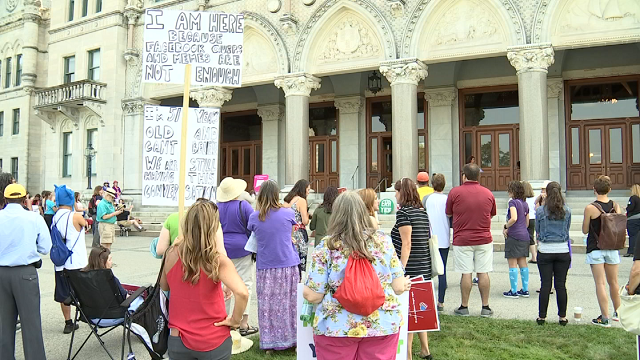 Dozens of women took the Capital Steps on Saturday to raise awareness for issues, they said, women still face. (WFSB)
HARTFORD, CT (WFSB) -
In honor of National Women's Equality Day, dozens of women took the Capital Steps on Saturday to raise awareness for issues, they said, women still face.
Organizers said the rally was held as a way to speak out on issues that affect women directly including, economic justice, abortion rights, equal pay, and ending violence against women and girls.
Organizers said a goal of theirs is to ratify the 'Equal Rights Amendment' and make it part of the Constitution.
"So many people don't understand and don't even see the reality that needs to be seen," said Hamden resident and speaker, Shatha Khasab.
"And, I think it's important for everybody to be informed and be involved in activities like this."
Similar rallies were also held in Washington D.C., as well as other states around the country.
Copyright 2017 WFSB (Meredith Corporation). All rights reserved.