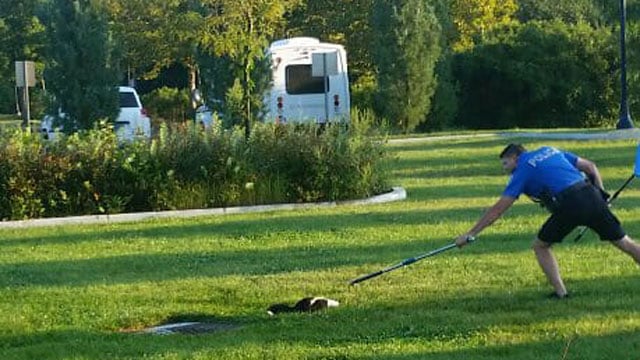 Officer Ken Lee rescues a skunk in Glastonbury. (Facebook)
GLASTONBURY, CT (WFSB) -
Not all success stories have to smell like roses.
A Glastonbury police officer had to rescue a skunk that had a plastic cup trapped on its head.
It happened Monday in front of the Riverfront Community Center.
Police said the call originally came in as a report of a rabid skunk.
When Officer Ken Lee arrived, however, he discovered that a cup was stuck on its face.
Lee, with help from Officer Dan Klafter and dispatcher Sarah Chaffee, used a snare pole and freed the animal.
No one was hurt.
Copyright 2017 WFSB (Meredith Corporation). All rights reserved.