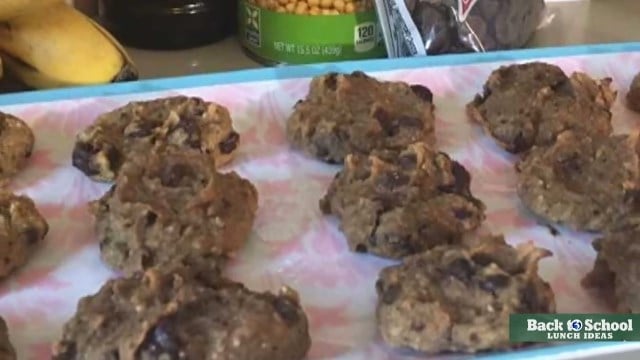 We show you how to make healthier cookies. (WFSB)
HARTFORD, CT (WFSB) -
Channel 3 is showing you how to make a healthy dessert for your students when they come home hungry from school.
Anchor Melissa Cole shows us a recipe for healthy chocolate chip cookies. She made chickpea cookies this week and here is what you need to make the yummy soft chewy chocolate chip dessert.
The healthy chocolate chip cookies take about 10 minutes to prepare and 25 minutes to cook. It takes a total of 35 minutes to complete this recipe.
Here are the ingredients:
1 Can chickpeas (400g)
1 Cup Oats
2 medium bananas
1/4 Cup brown sugar
1 teaspoon vanilla
1 teaspoon baking powder
1/4 Cup dark chocolate chips
Here are the instructions:
Drain the chickpeas and rinse thoroughly
Place all ingredients excluding the chocolate chips in the food processor
Whizz for 2-3 mins until very smooth
Remove the blade from the processor, add the chocolate chips and mix with a spoon
Using a tablespoon place spoonfuls onto a baking paper lined tray
Use the back of the spoon to shape the dollops into circular shapes, approximately 1 cm thick. Do not panic if they look a bit rustic
Bake at 180 degrees celsius for 25 mins
Remove from the oven and cool on the tray
For more information, click here.
Copyright 2017 WFSB (Meredith Corporation). All rights reserved.