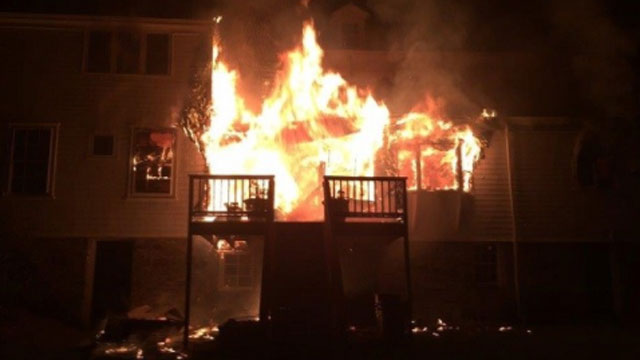 Flames shoot from a home on Old Post Road in Fairfield. (Fairfield Fire Department)
FAIRFIELD, CT (WFSB) -
Fairfield firefighters spent several hours Saturday morning putting out a fire that sent several people to the hospital.
Officials said the fire broke out just after 1:30 a.m. at 480 Old Post Road.
When crews arrived they found flames shooting from the back of the home. Mutual aid was called in from Westport, Bridgeport and Easton to assist with getting the fire under control.
Assistant Chief Schuyler Sherwood said that multiple occupants of the home were sent to the hospital with various injuries, but all are expected to recover.
Police said that an adult and 10 year old child were the occupants of the home.
Officials said that the 10 year old child was trapped inside the house and jumped from a second floor window before the Fire Department arrived. They confirmed there were no firefighter injuries at the scene.
The cause of the fire remains under investigation. The house is not habitable and the family members will be relocated to temporary housing.
Copyright 2017 WFSB (Meredith Corporation). All rights reserved.