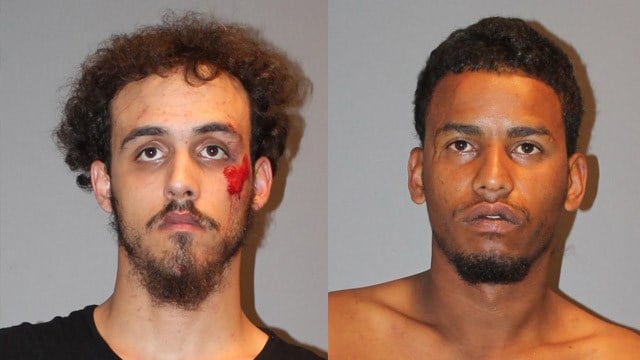 Paul Thompson and Josue Rivera-Suarez were arrested for burglarizing a Stratford deli, according to police. (Stratford police)
STRATFORD, CT (WFSB) -
Two of three men accused of breaking into a Stratford deli and stealing more than $1,000 worth of things were arrested.
According to police, 21-year-old Paul Thompson and 26-year-old Josue Rivera-Suarez, both from Bridgeport, broke into the Pickel Barrel Deli on Main Street. A third unknown suspect was with them as well.
The crime happened just after 2:30 a.m. on Monday.
The three took a cash register valued at $900 and a case worth about $130.
Police said they then fled in a gray van.
Surveillance footage was reviewed and police in surrounding towns were notified.
Thompson and Rivera-Suarez were taken into custody after an attempted to flee. Officers from Fairfield and Bridgeport located their vehicle.
Both were charged with third-degree burglary, fourth-degree larceny and possession of burglary tools.
They were held on a $20,000 bond and scheduled to appear in Bridgeport court on Sept. 11.
Copyright 2017 WFSB (Meredith Corporation). All rights reserved.